Top 5 php support scripts and help desk systems in 2018
1. PHP Support Desk
PHP Support Desk is a relatively new system gaining popularity with its modern and mobile-friendly interface, different options to
create and manage an online knowledgebase with help articles, create also a frequently asked questions section, multi-user admin panel to reply the customer tickets, mobile apps and others. It's provided with the full source codes and can be easily extended or combined with many other php scripts or readymade website systems.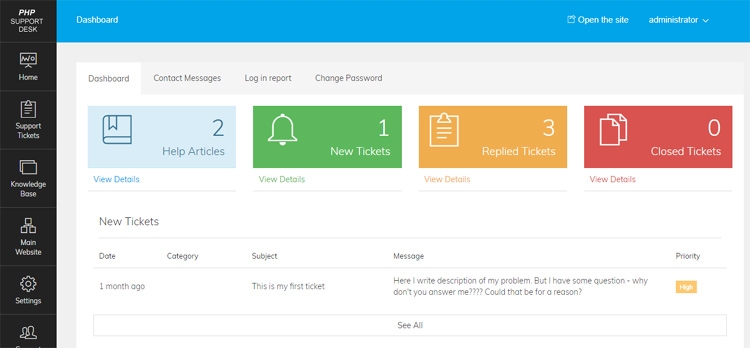 View Demos
or
Find Out More
2. Hesk
Hesk is one of the oldest and probably most widely used php standalone support script during the years. It's free and certainly this big advantage helped a lot in making it so popular and it's also not difficult to install or configure.
Hesk has good functionality for creating a knowledge base with articles in different categories, search the knowledge base, commenting the articles, submit support tickets and others.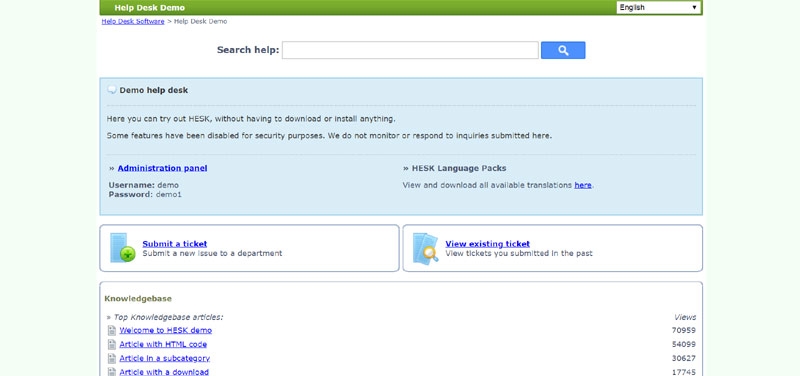 The main disadvantages of Hesk are that its interface looks quite dated compared to modern standards and it's not responsive (doesn't adapt to mobile devices like smartphones and tablets, which nowadays is a must if you wish to offer better experience to your users and have better ranking in search engines) and that there were numerous reports by different users that their sites powered by Hesk have issues with spam (it seems like the captcha images on the submit ticket forms and comment boxes and the anti-spam functionality isn't strong enough).
View Demos
3. Inout Support Desk Manager
Inout Support Desk Manager is a product of Inout Scripts - this website and brand is owned by the Nesote software company based in India and which offers many different php scripts for various types of websites.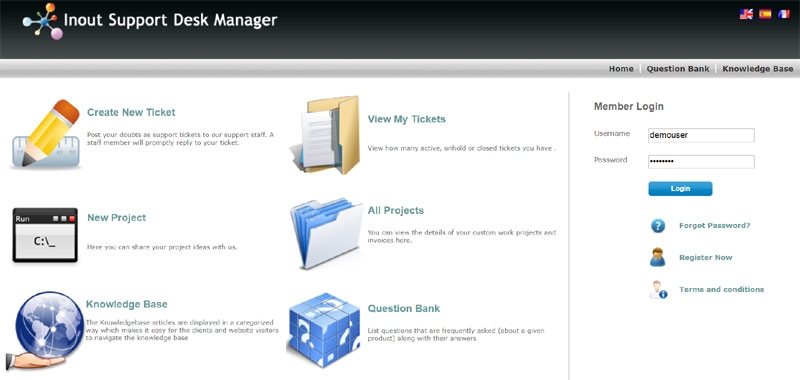 It has a long list of features including for example a Gmail like Interface (allowing to manage the support desk tickets and projects like emails, identify the active, inactive and closed tickets easily, star tickets etc.), creating custom projects (when the issue is larger in scale, allowing the users to start a project, providing its details, so the admins can respond to it), staff privileges & rights
(staff can be assigned with different privileges for support ticket and project sections separately by the administrator while adding/managing a staff - administrator can specify the support privileges of a staff from his admin area. He may also specify the communications, management and payment privileges for projects)
The disadvantage we find in it is that its interfacel is a it's not very user-friendly and also the interface is not responsive and doesn't work with mobile devices.
View Demos
4. SupportDesk from CodeCanyon
This is a really basic support system, which may be useful if you only need a ticket management functionality and prefer to have it with very clean design and interface.
The users can submit new tickets or view their old tickets without registering
It's created with the Laravel framework and supports multiple support agents and multiple departments (and the agents can view only the tickets based on their department)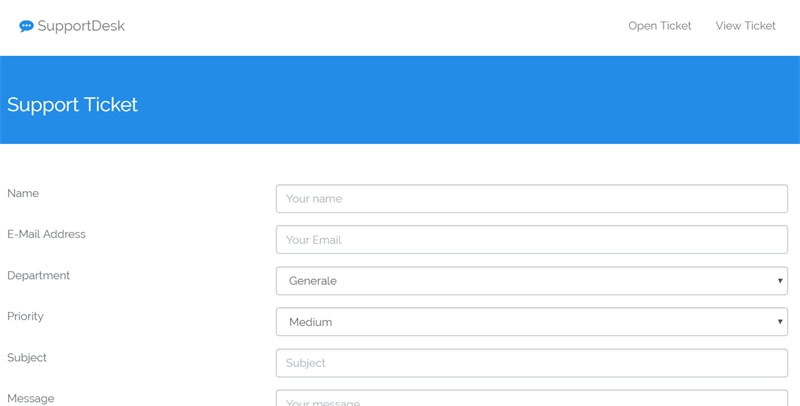 View Demos
5. Deskpro
Used mostly by large companies It has a built-in call center software, live chat, different type of automations to increase the effectiveness of your support teams.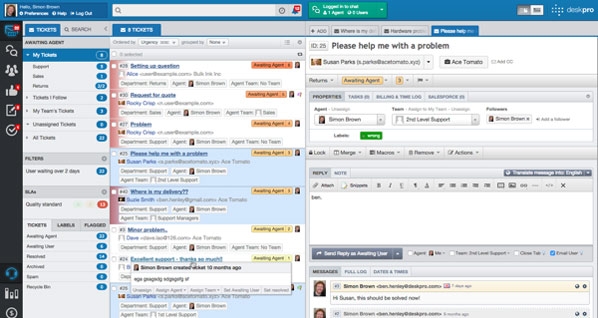 Its list of features is really impressive, but also its price is pretty high ( $1800 per license when installed on own server) compared to the other system, so it may be suitable choice for larger companies and organizations.